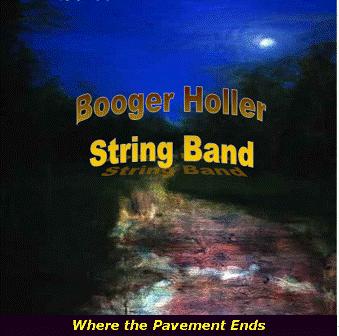 Booger Holler String Band
"Where the Pavement Ends"
NOW available online at County Sales & CD Baby!
Tune samples can be heard on CD Baby's website. You can also order by check if you prefer. Please make checks payable to Kay Van Treese, and mail to 397 Kim's Lane, Lamont, FL 32336. CD's are $10, plus $3 shipping & handling ($13 total).
Track List
1. Dance All Night With a Bottle in Your Hand
2. Texas Gals
3. Cindy
4. Rabbit in the Pea Patch
5. Altamont
6. Walking in My Sleep
7. John Brown's
8. Gray Eagle
9. Gal I Left Behind Me
10. Cabri Waltz
11. Duck River
12. Silver Lake
13. Hangman's Reel
14. Sugar Tree Stomp
15. Marmaduke's Hornpipe