He didn't see service in Europe: the war was over before he could ship overseas. But he saw plenty of action before and during World War II and during the Korean War.
Slowly and steadily, he worked his way up the ranks. He received a direct commission. And he began collecting awards for valor. By the time he retired from the Corps in 1951 he had earned more awards than any Marine in history: five Navy Crosses, the Distinguished Service Cross, the Silver Star, two Legions of Merit with "V" device, the Bronze Star with "V" device, the Bronze Star, the Air Medal and the Purple Heart.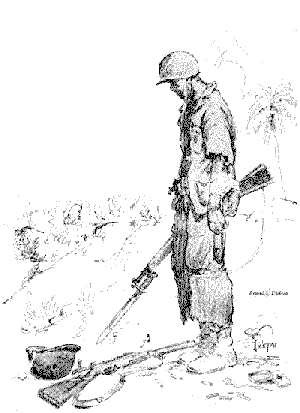 "Chesty" Puller became more than a hero: he was an American Legend. His gruff, give 'em hell attitude was admired throughout the Marine Corps. His bravery and his nickname, were known to the millions of Americans on the home front. He was a man's man, a Marine' s Marine. For all his renown, however, there are few permanent monuments to "Chesty" Puller. One is in the Hall of Valor at the VMI Museum. There, thousands of visitors come each year to learn about the VMI men who made our nation great. "Chesty" Puller's medals are on display along with those of Admiral Richard E. Byrd, General Lemuel C. Shepherd, and others.