Guadalcanal Today...Henderson Field
Hi there Jim,
Greetings! Sorry I haven't contacted you for a couple of months, however things have been very busy at work and also my wife and I have just had a baby son. Anyway, I am currently on holiday in Australia (hence the use of a different email address for this message!) and have spent sometime cruising the web and have revisited the Marine Diary site. Nice to see some further additions, which as always are very interesting.
Anyway, I thought that I will scan in some photos that I happen to have with me, and give you some explanations as to what they are. I have purchased a scanner recently so will send you some images as I get time to take some photos etc.

This is a photo of Henderson Airport taken in about May of 1996. This was taken from on top of the WW2 control tower which is still standing and is looking toward the east and Red Beach. Tenaru is several miles away on the right hand side of the picture. You will notice there are a variety of aircraft on the tarmac. The QANTAS 737 is on a scheduled run servicing Fiji/Vanuatu/Honiara/Brisbane. The Air Niugini (Papua New Guinea) F28 is on a scheduled run between Port Moresby and Honiara. The Lockheed Electra was used for a time to carry fresh tuna for the Japanese sushimi market from Honiara to Cairns or Brisbane in Australia, where the fish is then transferred to a Japan Airlines 747 for transport to Japan. The fish is generally on the auction floor in Tokyo within 12 hours of leaving Honiara!! You will also notice a Russian Kamov helicopter in the photo which is one of several in the Solomons that are used to support the logging industry.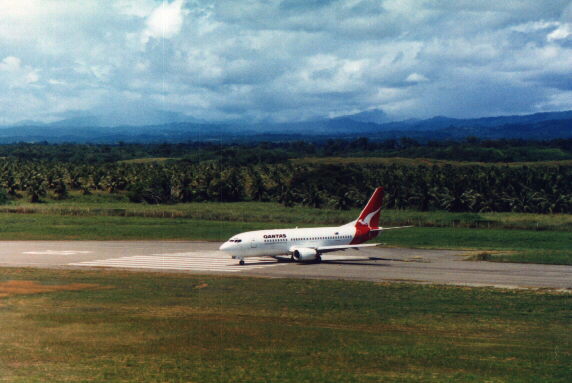 Once again this photo was taken from on top of the WW2 control tower. It is taken facing the SSE and shows a QANTAS 737-300 turning at the current threshold for the runway at Henderson.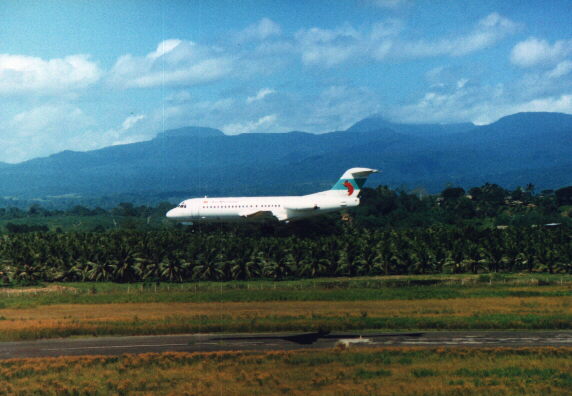 Yep, once again taken from the control tower, this time facing almost due south. The area immediatly behind the F28 is the Bloody Ridge (Edson's Ridge) area.

Anyway, I hope that these images are of interest to you and I will send some more when I return back to the Solomons from holidays in about a week's time.

I look forward to hearing from you again,

Regards,

Tony Cooke
------------------------------

Tony Cooke
PO Box 930
HONIARA
SOLOMON ISLANDS


ajcooke@welkam.solomon.com.sb

------------------------------